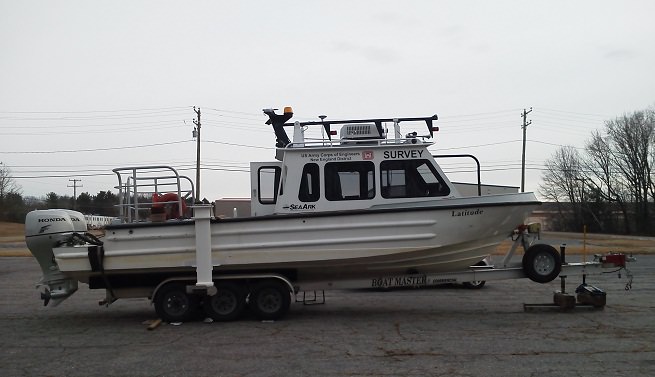 Governments & Municipalities
If you are a representative of a public water works department, learn more at Water Works.
Substructure, a certified small business, has worked with a wide variety of government agencies and municipalities for more than 15 years.
Through our experience providing marine services to the US Army, US Navy, and the US Coast Guard, we are familiar with government contracting and the rigorous specifications of military contracting. Substructure's multidisciplinary capabilities, high standards, and attention to detail ensure that government/municipal projects are completed correctly, on budget, and on time.
Substructure is a general member of the Association of Diving Contractors International (ADCI) and strictly adheres to the ADCI's diving consensus standards. Substructure's divers recently completed a one-of-a-kind confined space rescue certification that was developed with the New Hampshire Fire Academy. The certified Substructure commercial diving program meets or exceeds all national standards and conforms to USACE EM 385 1-1.
Government and municipalities rely on Substructure's extensive experience in marine rehabilitation and our customized, turnkey solutions to address the rehabilitation of marine facilities and structures. Our assessments of marine property considers the environmental conditions, material sciences, and site-specific variables to ensure an effective, long-lasting solution. Substructure is committed to completing projects on time and on budget, with an exemplary safety record.
Previous work Substructure has performed for governments and municipalities have included class B structural underwater welds at a US Naval facility, underwater recovery of devices at NUWC, diving operations at the Reagan Missile Test Range, structural rehabilitation at Guantanamo Bay, Cuba, and extensive pipeline tracking and inspection of multiple municipalities throughout the northeast.
Substructure performs search and recovery work for government agencies and municipalities with trailerable state-of-the-art survey vessel Orion. We can quickly and efficiently map and search large areas of water with multibeam SONAR or ROVs and provide detailed analyses of survey data. In addition, Substructure's commercial divers can securely dive in the areas of recovery interest, as indicated by multibeam data.
To find out how Substructure can help solve your marine problems with a turnkey solution, please contact us today.