Objective
Repair damaged bridge power cable quickly and safely.
Highlights
Completed dive job without incident or accident in dangerous river

Deployed stable aluminum work barges for reliable, safe work surface in treacherous conditions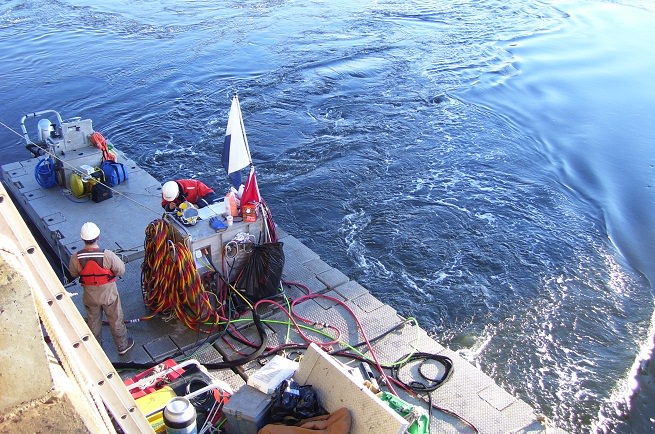 Project Details
Substructure worked with Cianbro Corporation to execute an emergency power cable repair to the Sarah Mildred Long Bridge, which connects Portsmouth, New Hampshire, and Kittery, Maine. The repair took place in 55-75 feet of water under the bridge. The powerful tidal current of the Piscataqua River limited divers to two-hour work windows during slack tide. Due to these brief safe work windows, divers had to complete their work both quickly and efficiently. Dives were planned and prepared for meticulously to ensure all tasks could be accomplished without incident in these small windows of time. Tasks completed by Substructure divers included removing sections of the damaged power cable, installing two new power cables, placing over a thousand grout bags to weight the cables to the seafloor, and attaching anchored brackets to bridge supports to secure the new cable to the vertical faces of the bridge piers.